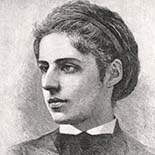 Emma Lazarus (July 22, 1849 – November 19, 1887) was an American author of poetry, prose, and translations, as well as an activist for Jewish causes.
She wrote the sonnet "The New Colossus" in 1883. Its lines appear inscribed on a bronze plaque, installed in 1903, on the pedestal of the Statue of Liberty. The last lines of the sonnet were set to music by Irving Berlin as the song "Give Me Your Tired, Your Poor" for the 1949 musical Miss Liberty, which was based on the sculpting of the Statue of Liberty (Liberty Enlightening the World). The latter part of the sonnet was also set by Lee Hoiby in his song "The Lady of the Harbor" written in 1985 as part of his song cycle "Three Women".
Lazarus was also the author of Poems and Translations (New York, 1867); Admetus, and other Poems (1871); Alide: An Episode of Goethe's Life (Philadelphia, 1874); Poems and Ballads of Heine (New York, 1881); Poems, 2 Vols.; Narrative, Lyric and Dramatic; as well as Jewish Poems and Translations.
THE NEW COLOSSUS
Emma Lazarus
Not like the brazen giant of Greek fame,
With conquering limbs astride from land to land;
Here at our sea-washed, sunset gates shall stand
A mighty woman with a torch, whose flame
Is the imprisoned lightning, and her name
Mother of Exiles. From her beacon-hand
Glows world-wide welcome; her mild eyes command
The air-bridged harbor that twin cities frame.
"Keep, ancient lands, your storied pomp!" cries she
With silent lips. "Give me your tired, your poor,
Your huddled masses yearning to breathe free,
The wretched refuse of your teeming shore.
Send these, the homeless, tempest-tost to me,
I lift my lamp beside the golden door!"
========
VENUS OF THE LOUVRE
Emma Lazarus
Down the long hall she glistens like a star,
The foam-born mother of Love, transfixed to stone,
Yet none the less immortal, breathing on.
Time's brutal hand hath maimed but could not mar.
When first the enthralled enchantress from afar
Dazzled mine eyes, I saw not her alone,
Serenely poised on her world-worshipped throne,
As when she guided once her dove-drawn car,—
But at her feet a pale, death-stricken Jew,
Her life adorer, sobbed farewell to love.
Here Heine wept! Here still he weeps anew,
Nor ever shall his shadow lift or move,
While mourns one ardent heart, one poet-brain,
For vanished Hellas and Hebraic pain.