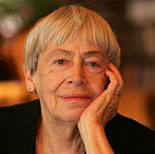 Ursula Kroeber Le Guin (born October 21, 1929) is an American author of novels, children's books, and short stories, mainly in the genres of fantasy and science fiction. She has also written poetry and essays.
Her work has often depicted futuristic or imaginary alternative worlds in politics, natural environment, gender, religion, sexuality and ethnography.
HYMM TO TIME
Ursula K. Le Guin
Time says "Let there be"
every moment and instantly
there is space and the radiance
of each bright galaxy.
And eyes beholding radiance.
And the gnats' flickering dance.
And the seas' expanse.
And death, and chance.
Time makes room
for going and coming home
and in time's womb
begins all ending.
Time is being and being
time, it is all one thing,
the shining, the seeing,
the dark abounding.
=======
ONLY IN SILENCE
Ursula Le Guin
Only in silence the word,
Only in dark the light,
Only in dying life:
Bright the hawk's flight
On the empty sky