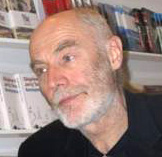 Ryszard Krynicki, one of the most prominent poets of postwar Poland.
Krynicki was born June 28, 1943 in Austria, where his parents had been deported to a Nazi labor camp. In Poland in the 1960s he became a leading member of the "New Wave" group of poets, which included Adam Zagajewski and Stanislaw Baranczak.
He was co-editor of Zapis, the first independent literary magazine in Communist Poland to be published outside the reach of official censorship. He made his debut in 1968 with the collection Speed of Chase, Speed of Flight, and after the publication of his second collection, Collective Organism, in a form severely cut by censorship, his work was published by the Institut Littéraire in Paris and by underground presses in Poland. His most recent collection, Magnetic Point, was published in 1996. Krynicki is a distinguished translator of German-language poetry, in particular of Paul Celan and Nelly Sachs. He has received many awards, among them the Polish Poets' Award, the Koscielski Foundation Award, and the Robert Graves-PEN Club Award.
CAN'T HELP YOU NOW
Ryszard Krynicki
Poor moth, I can't help you,
I can only turn out the light.