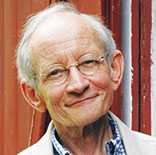 Ted Kooser (born April 25, 1939) is an American poet. He served as Poet Laureate Consultant in Poetry to the Library of Congress from 2004 to 2006.
SELECTING A READER
Ted Kooser
First, I would have her be beautiful,
and walking carefully up on my poetry
at the loneliest moment of an afternoon,
her hair still damp at the neck
from washing it. She should be wearing
a raincoat, an old one, dirty
from not having money enough for the cleaners.
She will take out her glasses, and there
in the bookstore, she will thumb
over my poems, then put the book back
up on its shelf. She will say to herself,
"For that kind of money, I can get
my raincoat cleaned." And she will.
=========
SPLITTING AN ORDER
Ted Kooser
I like to watch an old man cutting a sandwich in half,
maybe an ordinary cold roast beef on whole wheat bread,
no pickles or onion, keeping his shaky hands steady
by placing his forearms firm on the edge of the table
and using both hands, the left to hold the sandwich in place,
and the right to cut it surely, corner to corner,
observing his progress through glasses that moments before
he wiped with his napkin, and then to see him lift half
onto the extra plate that he had asked the server to bring,
and then to wait, offering the plate to his wife
while she slowly unrolls her napkin and places her spoon,
her knife and her fork in their proper places,
then smoothes the starched white napkin over her knees
and meets his eyes and holds out both old hands to him.