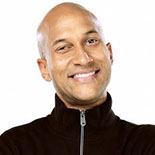 Keegan-Michael Key (born March 22, 1971) is an American actor, writer, and comedian.
Key starred in the Comedy Central sketch series Key & Peele and co-stars in the USA Network comedy series Playing House. He spent six seasons as a cast member on MADtv.
In 2014, he also starred in the first season of the FX series Fargo and the final season of the NBC series Parks and Recreation. He has had supporting roles in several films, including Let's Be Cops, Tomorrowland and Pitch Perfect 2. In 2015, Key appeared at the White House Correspondents' Dinner as the character Luther, President Barack Obama's anger translator. Since 2013, he has made several guest appearances on Whose Line is it Anyway?