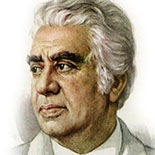 Aram Il'yich Khachaturian, June 6, 1903 – May 1, 1978) was a Soviet Armenian composer and conductor.
He is considered one of the leading Soviet composers and the most renowned Armenian composer of the 20th century.
His first major work, the Piano Concerto (1936), popularized his name within and outside the Soviet Union. It was followed by the Violin Concerto (1940) and the Cello Concerto (1946). His other significant compositions include the Masquerade Suite (1941), the Anthem of the Armenian SSR (1944), three symphonies (1935, 1943, 1947), and around 25 film scores. Khachaturian is best known for his ballet music: Gayane (1942) and Spartacus (1954). His most popular piece, the "Sabre Dance" from Gayane, has been used extensively in popular culture and has been covered by a number of musicians worldwide.
While following Russian musical traditions, he broadly used Armenian and to lesser extent, Caucasian, Eastern European and Middle Eastern peoples' folk music in his works. Khachaturian remains the only Armenian composer to rise to international significance. He is highly regarded in Armenia, where he is considered a "national treasure".