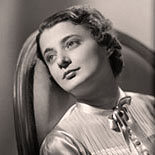 Rina Ketty (March 1, 1911 – December 23, 1996) was a French chanteuse.
Ketty was born Rina Pichetto in Sarzana, Italy. She went to Paris in the 1930s and in 1938 and 1939 made her breakthrough with songs like Sombreros et mantilles and J'attendrai (literally: "I shall wait"). Despite the popularity of these chansons during World War II, she was not able to stay in the spotlight after 1945. In 1954 she moved to Canada and in 1965 returned to France but was unable to revive her pre-war success. In 1991 the French minister of culture Jack Lang awarded her the Ordre des Arts et des Lettres. Her husband Jo Harman died in 1994.
Later, her songs were re-interpreted, most notably by Dalida. The song J'attendrai gained some renewed interest in 1981 as part of the soundtrack of the movie Das Boot and in 2006 for its use in a TV commercial from the French union of employers MEDEF.