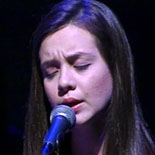 Areti Ketime (born July 26, 1989), is a singer and a santouri player from Greece who performs a broad spectrum of Greek traditional music.
Growing-up in a family originally from Mesologgi, Ketime was raised in Cyprus and was closely connected to the traditional music and was thus exposed to music from the age of 6. From 1999, she has participated in the Syme Festival. In 2002 she met noted musician George Dalaras and made a common appearance in several concerts. Areti also participated in Dalaras' album «Από Καρδιάς» singing the folk song «Μαραίνομ΄ ο Καημένος».
In 2003, she participated in a festival dedicated to Asia Minor along with Glykeria, Dalaras and Estudiantina of New Ionia. Dalaras produced her debut CD, To Tragoudi tis Aretis, Greek: Tο τραγούδι της Αρετής– ('Virtue's Song') with four tracks on the Parlophone label (MINOS/EMI). Ketime, accompanying herself on the santouri, performed at the opening ceremony for the 2004 Summer Olympics in Athens.
Ketime turned professional in 2005, and began playing with her own group of musicians. She has appeared in many concerts themed on traditional Greek music, performing in a broad spectrum of both Greek traditional music (singing and playing), as well as classical. Areti enjoys fame and success in Cyprus, with her latest album 'Kali sou tihi', achieving gold status in the country!