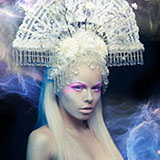 Kerli Koiv (born February 7, 1987), usually referred to as Kerli, is an Estonian recording artist and songwriter.
Kerli entered multiple singing competitions before being signed to Island Records in 2006 by LA Reid. In 2007, she released her debut self-titled extended play and in 2008, released her debut studio album, Love Is Dead, the latter of which charted on the Billboard 200. The lead single from the album, "Walking on Air," charted in many countries and was also featured as the iTunes Store's Single of the Week where it was downloaded over 500,000 times, a record at that time.
Following the release of Love Is Dead, Kerli began production on a second studio album which became her second extended play Utopia, released in early 2013, where it became Kerli's second release to chart on the Billboard 200.Two promotional singles from the EP, "Army of Love" and "Zero Gravity", were released prior to the release of the album's first official single, "The Lucky Ones". All three songs entered the top ten of Billboard's Hot Dance Club Songs chart, two of them peaking at number one.
ARMY OF LOVE
Lyrics by Kerli
Say it loud
(Uh huh, uh huh, uh huh)
We'd love to love to love ya'
Love to love to love ya'
Say it loud
(Uh huh, uh huh, uh huh)
We'd love to love to love ya'
Love to love to love ya'
I put my name on the line for love
'Cause this is what I've been waiting for
I saw it all like a sign above
So follow me, follow me
Tell me baby, that you love me (love me)
There's nothing higher, higher than me
If love and freedom's all that we need
Then follow me, follow me
Say it loud
(Uh huh, uh huh, uh huh)
We'd love to love to love ya'
Love to love to love ya'
Say it loud
(Uh huh, uh huh, uh huh)
We'd love to love to love ya'
Love to love to love ya'
I put my name on the line for love
Together we'll break down the walls
This is a different kind of war
So follow me, follow me
Tell me baby, that you love me (love me)
There's nothing higher, higher than me
If love and freedom's all that we need
Then follow me, follow me
Come one, come all
We're building an army, building an army
Come down, come down
We're building an army, an army of loveSay it loud
(Uh huh, uh huh, uh huh)
We'd love to love to love ya'
Love to love to love ya'Say it loud
(Uh huh, uh huh, uh huh)
We'd love to love to love ya'
Love to love to love ya'So let's go on, let's go on
On and on for love
So let's go on, let's go on
On and on for love(For love)
Tell me baby, that you love me
(For love)
There's nothing higher, higher than me
(For love)
If love and freedom's all that we need
(For love)
Then follow me, (For love) follow me
Say it loud
(Uh huh, uh huh, uh huh)
We'd love to love to love ya'
Love to love to love ya'
Say it loud
(Uh huh, uh huh, uh huh)
We'd love to love to love ya'
Love to love to love ya'
We'd love to love to love ya'
Love to love to love ya'
We'd love to love to love ya'
Love to love to love ya'