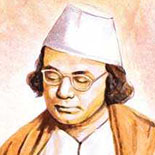 Kazi Nazrul Islam (May 24, 1899 – August 29, 1976) was a Bengali polymath, poet, writer, musician and revolutionary.
Popularly known as Nazrul, his poetry and music espoused Indo-Islamic renaissance and intense spiritual rebellion against fascism and oppression. Nazrul's impassioned activism for political and social justice earned him the title of the Rebel Poet. Accomplishing a large body of acclaimed works through his life, Nazrul is officially recognized as the national poet of Bangladesh and highly commemorated in India and the Muslim world.
Born into a Bengali Muslim Quazi (Kazi) family, Nazrul received religious education and worked as a muezzin at a local mosque. He learned of poetry, drama, and literature while working with theatrical groups. After serving in the British Indian Army, Nazrul established himself as a journalist in Calcutta. He assailed the British Raj in India and preached revolution through his poetic works, such as "Bidrohi" ("The Rebel") and "Bhangar Gaan" ("The Song of Destruction"), as well as his publication "Dhumketu" ("The Comet"). His impassioned activism in the Indian independence movement often led to his imprisonment by British authorities. While in prison, Nazrul wrote the "Rajbandir Jabanbandi" ("Deposition of a Political Prisoner"). Exploring the life and conditions of the downtrodden masses of India, Nazrul worked for their emancipation.
Nazrul's writings explore themes such as love, freedom, and revolution; he opposed all bigotry, including religious and gender. Throughout his career, Nazrul wrote short stories, novels, and essays but is best known for his poems, in which he pioneered new forms such as Bengali ghazals. Nazrul wrote and composed music for his nearly 4,000 songs (including gramophone records), collectively known as Nazrul geeti (Nazrul songs), which are widely popular today. In 1942 at the age of 43 he began suffering from an unknown disease, losing his voice and memory. It is often said, the reason was slow poisoning by British Government but later a medical team in Vienna diagnosed the disease as Morbus Pick, a rare incurable neurodegenerative disease. It caused Nazrul's health to decline steadily and forced him to live in isolation for many years. Invited by the Government of Bangladesh, Nazrul and his family moved to Dhaka in 1972, where he died four years later.
ADORN HER
Kazi Nazrul Islam

How can I adorn her,
With one basketful of flowers?
The sky is overcast
With her disheveled
Cloudy hair,
Oh, how can I adorn her?
Why have you, oh gardener,
Given me so few flowers,
That they should disappear
Before I could adorn her?
Ketaki the monsoon's bride
Putting the veil aside.
Behind thorny secret,
Woodland hides.
The unruly Kamini withers
Before I can touch her.
Drunk in her own fragrance
The tipsy chapa dances.
The shameless damsel Togor
Looks with her big eyes.
But before she could wither
The poor Bokul dies.
=========
ALL MIDNIGHT I SUDDENLY WAKE UP
Kazi Nazrul Islam
At midnight I suddenly wake up hearing someone's voice
is that you, is that you?
I feel the load of some memory in my breast –
is that you, is that you?
Some one's hungry love roams about seeking aIms
Some one's piteous eyes like the stars in the night-sky
look at the sought-after face – is that you, is that you?
The wind at night carries someone's lingering sigh
And stirs my heart; Oh my distant beloved
is that you, is that you?
Like the ocean-wave whose crying bruises my heart
The nightingale in the wood ceaselessly chirps on the champah tree
is that you, is that you ?