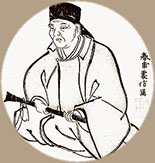 Kobayashi Issa (June 15, 1763 – January 5, 1828), was a Japanese poet and lay Buddhist priest of the Jōdo Shinshū sect known for his haiku poems and journals.
He is better known as simply Issa, a pen name meaning Cup-of-tea (lit. "one [cup of] tea"). He is regarded as one of the four haiku masters in Japan, along with Bashō, Buson and Shiki – "the Great Four, Basho, Buson, Issa, Shiki".
Reflecting the popularity and interest in Issa as man and poet, Japanese books on Issa outnumber those on Buson, and almost equal in number those on Bashō.
Issa wrote over 20,000 haiku, which have won him readers up to the present day. Though his works were popular, he suffered great monetary instability. Despite a multitude of personal trials, his poetry reflects a childlike simplicity, making liberal use of local dialects and conversational phrases, and 'including many verses on plants and the lower creatures. Issa wrote 54 haiku on the snail, 15 on the toad, nearly 200 on frogs, about 230 on the firefly, more than 150 on the mosquito, 90 on flies, over 100 on fleas and nearly 90 on the cicada, making a total of about one thousand verses on such creatures'. By contrast, Bashō's verses are comparatively few in number, about two thousand in all.
Issa was also known for his drawings, generally accompanying haiku: "the Buddhism of the haiku contrasts with the Zen of the sketch". His approach has been described as "similar to that of Sengai….Issa's sketches are valued for the extremity of their abbreviation, in keeping with the idea of haiku as a simplification of certain types of experience."
One of Issa's haiku, as translated by R.H. Blyth, appears in J. D. Salinger's 1961 novel, Franny and Zooey:
O snail
Climb Mount Fuji,
But slowly, slowly!
The same poem, in Russian translation, served as an epigraph for a novel Snail on the Slope by Arkady and Boris Strugatsky (published 1966–68), also providing the novel's title.
Another, translated by Peter Beilenson with Harry Behn, reads:
Everything I touch
with tenderness, alas,
pricks like a bramble.
Issa's most popular and commonly known tome, titled The Spring of My Life, is autobiographical in content, and its structure combines prose and haiku.
========
THE PIGEON MAKES HIS REQUEST
Kobayashi Issa
Since it's spring and raining,
could we have a little different expression,
oh owl?