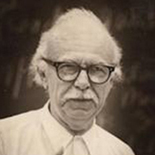 David Ignatow (February 7, 1914 – November 17, 1997) was an American poet.
During his literary career, Mr. Ignatow worked as an editor of American Poetry Review, Analytic, Beloit Poetry Journal, and Chelsea Magazine, and as poetry editor of The Nation. He taught at the New School for Social Research, the University of Kentucky, the University of Kansas, Vassar College, York College of the City University of New York, New York University, and Columbia University. He was president of the Poetry Society of America from 1980 to 1984 and poet-in-residence at the Walt Whitman Birthplace Association in 1987.
Mr. Ignatow's many honors include a Bollingen Prize, two Guggenheim fellowships, the John Steinbeck Award, and a National Institute of Arts and Letters award "for a lifetime of creative effort." He received the Shelley Memorial Award (1966), the Frost Medal (1992), and the William Carlos Williams Award (1997) of the Poetry Society of America.
FOR NOBODY ELSE
David Ignatow
She presents me with a mountain
which to possess I first must climb.
At the start I must enter a tunnel
that winds in darkness to the top.
In my extremity, my breathing forced,
at my topmost fear as I labor,
she who has hidden her face
turns to greet the high noon burst
upon our eyes.
Lie quietly by my side
as a still lake reflecting
its mountain, my heart beats
on your heart
as we hold each other's breathing
in our arms,
our backs on darkness
light on our breaths,
safe at last
to hold you,
you place your hands
upon my back
in the shadows.
I need to see and touch
and talk to you each day
to assure myself
I am not made happy with dreams.
Then you become for me a tree
of comforting shade, bellying
where the branches bunch together
full of leaves.
I want a maternal world.
Sadly is how I must say it
because you have many sisters
and I am brother to many brothers.
Should we then not become many happinesses,
become many starts of love,
as we fade into a crowd of faces
awaiting our bed?
My body grows pale with effort
into the milky dawn.
I succeed in acting one more day,
you already dressed and moving about,
a person with a coffee pot.
I stick out my tongue
to touch the brightening sky.
How do I know that tomorrow you will live?
Do you know how much you mean to me?
At the thought of your death
all thought stops in me,
I catch my breath.
=======
RESCUE THE DEAD
David Ignatow
Finally, to forgo love is to kiss a leaf,
is to let rain fall nakedly upon your head,
is to respect fire,
is to study man's eyes and his gestures
as he talks,
is to set bread upon the table
and a knife discreetly by,
is to pass through crowds
like a crowd of oneself.
Not to love is to live.
To love is to be led away
into a forest where the secret grave
is dug, singing, praising darkness
under the trees.
To live is to sign your name,
is to ignore the dead,
is to carry a wallet
and shake hands.
To love is to be a fish.
My boat wallows in the sea.
You who are free,
rescue the dead.