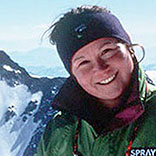 Alison Jane Hargreaves (February 17, 1962 – August 13, 1995) was an English mountain climber.
Her accomplishments included scaling Mount Everest alone without supplementary oxygen in 1995. She soloed all the great north faces of the Alps in a single season—a first for any climber. This feat included climbing the famously difficult north face of the Eiger in the Alps in 1993. Hargreaves also climbed 22,349 ft Ama Dablam in Nepal.
In 1995 Alison Hargreaves intended to climb the three highest mountains in the world—Mount Everest, K2 and Kangchenjunga—unaided. On May 13, 1995 she reached the summit of Everest without the aid of Sherpas or bottled oxygen. She also did major climbs while pregnant.