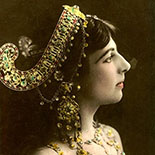 Margaretha Geertruida "Margreet" Zelle MacLeod (August 7, 1876 – October 15, 1917), better known by the stage name Mata Hari, was an exotic dancer and courtesan.
Mata was convicted of being a spy and executed by firing squad in France under charges of espionage for Germany during World War I.
In 1903, Zelle moved to Paris, where she performed as a circus horse rider, using the name Lady MacLeod. Struggling to earn a living, she also posed as an artist's model.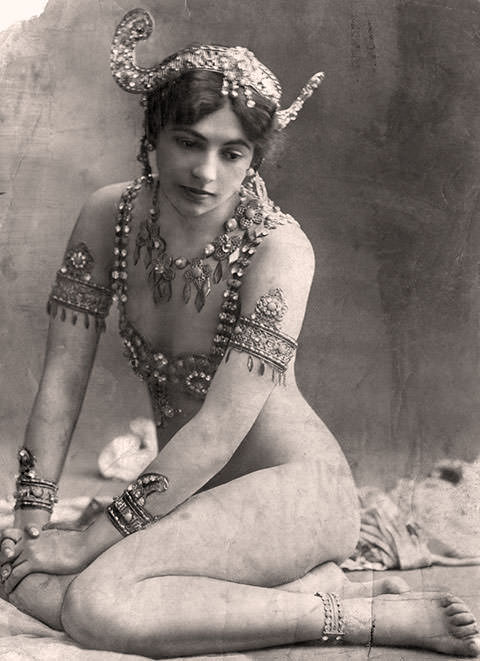 By 1905, Mata Hari began to win fame as an exotic dancer. She was a contemporary of dancers Isadora Duncan and Ruth St. Denis, leaders in the early modern dance movement, which around the turn of the 20th century looked to Asia and Egypt for artistic inspiration. Critics would later write about this and other such movements within the context of Orientalism. Gabriel Astruc became her personal booking agent.
Promiscuous, flirtatious, and openly flaunting her body, Mata Hari captivated her audiences and was an overnight success from the debut of her act at the Musée Guimet on March 13, 1905. She became the long-time mistress of the millionaire Lyon industrialist Émile Étienne Guimet, who had founded the Musée. She posed as a Java princess of priestly Hindu birth, pretending to have been immersed in the art of sacred Indian dance since childhood. She was photographed numerous times during this period, nude or nearly so. Some of these pictures were obtained by MacLeod, her husband, and strengthened his case in keeping custody of their daughter.
Mata Hari brought this carefree provocative style to the stage in her act, which garnered wide acclaim. The most celebrated segment of her act was her progressive shedding of clothing until she wore just a jeweled bra and some ornaments upon her arms and head. She was seldom seen without a bra, as she was self-conscious about being small-breasted. She wore a bodystocking for her performances that was similar in color to her own skin.
Although Mata Hari's claims about her origins were fictitious, it was very common for entertainers of her era to invent colorful stories about their origins as part of the show. Her act was spectacularly successful because it elevated exotic dance to a more respectable status, and so broke new ground in a style of entertainment for which Paris was later to become world famous. Her style and her free-willed attitude made her a very popular woman, as did her eagerness to perform in exotic and revealing clothing. She posed for provocative photos and mingled in wealthy circles. At the time, as most Europeans were unfamiliar with the Dutch East Indies and thus thought of Mata Hari as exotic, it was assumed her claims were genuine.
During World War I, the Netherlands remained neutral. As a Dutch subject, Zelle was thus able to cross national borders freely. To avoid the battlefields, she travelled between France and the Netherlands via Spain and Britain, and her movements inevitably attracted attention. In 1916, she was travelling by steamer from Spain when her ship called at the English port of Falmouth. There she was arrested and brought to London where she was interrogated at length by Sir Basil Thomson, Assistant Commissioner at New Scotland Yard in charge of counter-espionage. He gave an account of this in his 1922 book Queer People, saying that she eventually admitted to working for French Intelligence. Initially detained in Cannon Street police station, she was then released and stayed at the Savoy Hotel. A full transcript of the interview is in Britain's National Archives and was broadcast with Mata Hari played by Eleanor Bron on the independent station London Broadcasting in 1980.
It is unclear if she lied on this occasion, believing the story made her sound more intriguing, or if French authorities were using her in such a way, but would not acknowledge her due to the embarrassment and international backlash it could cause.
In January 1917, the German military attaché in Madrid transmitted radio messages to Berlin describing the helpful activities of a German spy, code-named H-21. French intelligence agents intercepted the messages and, from the information it contained, identified H-21 as Mata Hari. The messages were in a code that some claimed that German intelligence knew had already been broken by the French (in fact it had been broken not by the French, but by the British "Room 40" team), leaving some to claim that the messages were contrived. However, this same code, which the Germans were convinced was unbreakable was used to transmit the Zimmermann Telegram; its unintended interception some weeks later precipitated the United States's entry into the war against Germany.
On February 13, 1917, Mata Hari was arrested in her room at the Hotel Elysée Palace on the Champs Elysées in Paris. She was put on trial on July 24, accused of spying for Germany, and consequently causing the deaths of at least 50,000 soldiers. Although the French and British intelligence suspected her of spying for Germany, neither could produce definite evidence against her. Supposedly secret ink was found in her room, which was incriminating evidence in that period. She contended that it was part of her make-up. She wrote several letters to the Dutch Consul in Paris, claiming her innocence. "My international connections are due of my work as a dancer, nothing else …. Because I really did not spy, it is terrible that I cannot defend myself". Her defence attorney, veteran international lawyer Edouard Clunet, faced impossible odds; he was denied permission either to cross-examine the prosecution's witnesses or to examine his own witnesses directly. Under the circumstances, her conviction was a foregone conclusion. She was executed by firing squad on October 15, 1917, at the age of 41.
German documents unsealed in the 1970s proved that Mata Hari was truly a German agent. In the autumn of 1915, she entered German service, and on orders of section III B-Chief Walter Nicolai, she was instructed about her duties by Major Roepell during a stay in Cologne. Her reports were to be sent to the Kriegsnachrichtenstelle West (War News Post West) in Düsseldorf under Roepell as well as to the Agent mission in the German embassy in Madrid under Major Arnold Kalle, with her direct handler being Captain Hoffmann, who also gave her the code name H-21.