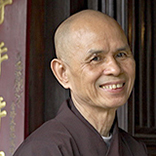 Thich Nhat Hanh (born October 11, 1926) is a Vietnamese Zen Buddhist monk, teacher, author, poet and peace activist. He lives in the Plum Village Monastery in the South of France, traveling internationally to give retreats and talks.






PLEASE CALL ME BY MY TRUE NAMES

Thich Nhat Hanh
Do not say that I'll depart tomorrow

because even today I still arrive.
Look deeply: I arrive in every second
to be a bud on a spring branch,
to be a tiny bird, with wings still fragile,
learning to sing in my new nest,
to be a caterpillar in the heart of flower,
to be a jewel hiding itself in a stone.
I still arrive, in order to laugh and to cry,
in order to fear and to hope,
the rhythm of my heart is the birth and
death of all that are alive.
I am the mayfly metamorphosing on the
surface of the river,
and I am the bird which, when spring comes,
arrives in time to eat the mayfly.
I am the frog swimming happily in the
clear water of a pond,
and I am also the grass-snake who,
approaching in silence,
feeds itself on the frog.
I am the child in Uganda, all skin and bones,

my legs as thin as bamboo sticks,

and I am the arms merchant, selling deadly

weapons to Uganda.