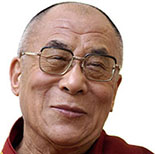 The Dalai Lama is a high lama in the Gelug or "Yellow Hat" school of Tibetan Buddhism, founded by Tsongkhapa (1357–1419). The name is a combination of the Mongolian word dalai meaning "Ocean" and the Tibetan word bla-ma (with a silent "b") meaning "guru, teacher".
According to Tibetan Buddhist doctrine, the Dalai Lama is the rebirth in a line of tulkus who are metaphorically considered to be manifestations of the bodhisattva of compassion, Avalokiteśvara. The line of Dalai Lamas began as a lineage of spiritual teachers; the 5th Dalai Lama assumed political authority over Tibet.
For certain periods between the 17th century and 1959, the Dalai Lamas sometimes directed the Tibetan government, which administered portions of Tibet from Lhasa. The 14th Dalai Lama remained the head of state for the Central Tibetan Administration ("Tibetan government in exile") until his retirement on March 14, 2011. He has indicated that the institution of the Dalai Lama may be abolished in the future, and also that the next Dalai Lama may be found outside Tibet and may be female. The Chinese government rejected this and asserted that only it has the authority to select the next Dalai Lama.
The 14th Dalai Lama (religious name: Tenzin Gyatso, born Lhamo Dondrub, July 6, 1935) is the 14th and current Dalai Lama, as well as the longest lived incumbent. Dalai Lamas are the head monks of the Gelugpa lineage of Tibetan Buddhism. He won the Nobel Peace Prize in 1989, and is also well known for his lifelong advocacy for Tibetans inside and outside Tibet.
The Dalai Lama met with Pope Paul VI at the Vatican in 1973. He met with Pope John Paul II in 1980, 1982, 1986, 1988, 1990, and 2003. In 1990, he met in Dharamshala with a delegation of Jewish teachers for an extensive interfaith dialogue. He has since visited Israel three times and met during 2006 with the Chief Rabbi of Israel. In 2006, he met privately with Pope Benedict XVI. He has met with the Archbishop of Canterbury, Dr. Robert Runcie, and other leaders of the Anglican Church in London, Gordon B. Hinckley, who at the time was the president of The Church of Jesus Christ of Latter-day Saints (Mormons), as well as senior Eastern Orthodox Church, Muslim, Hindu, Jewish, and Sikh officials. The Dalai Lama is also currently a member of the Board of World Religious Leaders as part of The Elijah Interfaith Institute and participated in the Third Meeting of the Board of World Religious Leaders in Amritsar, India, on 26 November 2007 to discuss the topic of Love and Forgiveness.
On January 6, 2009, at Gujarat's Mahuva, the Dalai Lama inaugurated an interfaith "World Religions-Dialogue and Symphony" conference convened by Hindu preacher Morari Bapu. This conference explored "ways and means to deal with the discord among major religions", according to Morari Bapu.He has stated that modern scientific findings should take precedence where appropriate over disproven religious superstition.