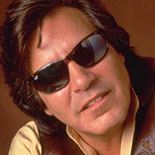 José Montserrate Feliciano García (born September 10, 1945), better known simply as José Feliciano, is a Puerto Rican virtuoso guitarist, singer and composer.
Feliciano is known for many international hits, including his rendition of The Doors' "Light My Fire" and the best-selling Christmas single "Feliz Navidad".
Left permanently blind at birth as a result of congenital glaucoma, he was first exposed to music at age 3; he would play on a tin cracker can while accompanying his uncle, who played the cuatro. When he was 5, his family moved to Spanish Harlem, New York City, and at 9 he played the Teatro Puerto Rico in The Bronx.
He started his musical life playing the accordion until his father gave him his first guitar in a brown paper bag. He would play his guitar by himself in his room for up to 14 hours a day, and would listen to 1950s rock'n'roll records of classical guitarists and jazz players. Andrés Segovia and Wes Montgomery were among his favorites. He later had classical lessons with Harold Morris, who had been a student of Segovia. In a 1969 interview, he also mentioned soul music in general, and Ray Charles in particular, as influences on his singing.
At 17 he quit school to play in clubs.