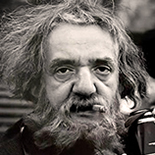 Weegee was the pseudonym of Arthur Fellig (June 12, 1899 – December 26, 1968), a photographer and photojournalist, known for his stark black and white street photography.
Weegee worked in Manhattan, New York City's Lower East Side as a press photographer during the 1930s and '40s, and he developed his signature style by following the city's emergency services and documenting their activity. Much of his work depicted unflinchingly realistic scenes of urban life, crime, injury and death.
Weegee published photographic books and also worked in cinema, initially making his own short films and later collaborating with film directors such as Jack Donohue and Stanley Kubrick. Describing his beginnings, Weegee stated: "in my particular case I didn't wait 'til somebody gave me a job or something, I went and created a job for myself—freelance photographer. And what I did, anybody else can do. What I did simply was this: I went down to Manhattan Police Headquarters and for two years I worked without a police card or any kind of credentials. When a story came over a police teletype, I would go to it. The idea was I sold the pictures to the newspapers. And naturally, I picked a story that meant something." Weegee worked at night and competed with the police to be first at the scene of a crime, selling his photographs to tabloids and photographic agencies.
In 1957, after developing diabetes, he moved in with Wilma Wilcox, a Quaker social worker whom he had known since the 1940s, and who cared for him and then cared for his work. He traveled extensively in Europe until 1968, working for the Daily Mirror and on a variety of photography, film, lecture, and book projects. In 1968, Weegee died in New York at the age of 69. Fellig earned his nickname, a phonetic rendering of Ouija, because of his frequent, seemingly prescient arrivals at scenes only minutes after crimes, fires or other emergencies were reported to authorities.He is variously said to have named himself Weegee or to have been named by either the staff at Acme Newspictures or by a police officer. Another version claims that the nickname originates from his work as a darkroom assistant, also known as a "squeegee" boy.
Weegee can be seen as the American counterpart to Brassaï, who photographed Paris street scenes at night. Weegee's themes of nudists, circus performers, freaks and street people were later taken up and developed by Diane Arbus in the early 1960s.