The International Day of Peace is an annual event designed to bring peace to every individual across the globe.
The day aims to encourage personal and political ceasefires, and brings everyone together in celebration of peace. Worldwide, people can mark the day alone, organize an event, or join in on one of the many other events taking place. On this day commit to finding your inner peace.
Photo © Abraham Menashe
—————————————————————————–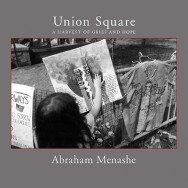 Featured photo is from Union Square; A Harvest of Grief and Hope, by Abraham Menashe, available from iTunes.