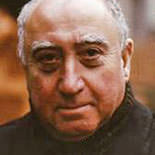 Fazıl Hüsnü Dağlarca (August 26, 1914 – October 15, 2008) was one the most prolific Turkish poets of the republican Turkey.
THE SULTAN OF THE ANIMALS IS THE NIGHT
Fazil Daglarca
The sultan of the animals is the night
Jet-black, gleaming, furry night.
Like a female animal it gives me courage
As I think of my love.
Evoking magnificent legends
Blood in dreams,
Savage memories come charging
From stark-naked mountains.
All of us animals, beasts and birds,
Crowd the marsh at this moment of tryst.
The white of my teeth glimmers
With relish and eagerness of love.