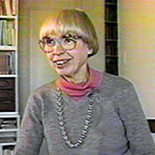 Jane Cooper, American poet, essayist and teacher (October 9, 1924 – October 26, 2007).
Cooper received a Guggenheim Fellowship in 1960, the first of many awards she has garnered. They include the Ingram-Merrill Foundation Fellowship, the Shelley Award of the Poetry Society of America, a grant from the National Endowment for the Arts, the Maurice English Poetry Award, and the Literature Award of the American Academy of Arts and Letters. Cooper, who retired from teaching in 1987, retains the title of Professor and Poet-in-Residence Emerita at Sarah Lawrence.
HUNGER MOON
Jane Cooper
The last full moon of February
stalks the fields; barbed wire casts a shadow.
Rising slowly, a beam moved toward the west
stealthily changing position
until now, in the small hours, across the snow
it advances on my pillow
to wake me, not rudely like the sun
but with the cocked gun of silence.
I am alone in a vast room
where a vain woman once slept.
The moon, in pale buckskins, crouches
on guard beside her bed.
Slowly the light wanes, the snow will melt
and all the fences thrum in the spring breeze
but not until that sleeper, trapped
in my body, turns and turns.
=======
RENT
Jane Cooper
If you want my apartment, sleep in it
but let's have a clear understanding:
the books are still free agents.
If the rocking chair's arms surround you
they can also let you go,
they can shape the air like a body.
I don't want your rent, I want
a radiance of attention
like the candle's flame when we eat,
I mean a kind of awe
attending the spaces between us—
Not a roof but a field of stars.