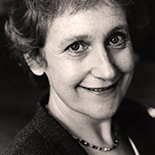 Wendy Cope, (born July 21, 1945) is an award-winning contemporary English poet.
She now lives in Ely with the poet Lachlan Mackinnon. Despite her slight output, her books have sold well and she has attracted a popular following with her lighthearted, often comical poetry, as well as achieving literary credibility winning two awards and making an award shortlist over a fourteen-year period.[5] She has a keen eye for the everyday, mundane aspects of English life, especially the desires, frustrations, hopes, confusions and emotions in intimate relationships.
BEING BORING
Wendy Cope
If you ask me 'What's new?', I have nothing to say
Except that the garden is growing.
I had a slight cold but it's better today.
I'm content with the way things are going.
Yes, he is the same as he usually is,
Still eating and sleeping and snoring.
I get on with my work. He gets on with his.
I know this is all very boring.
There was drama enough in my turbulent past:
Tears and passion-I've used up a tankful.
No news is good news, and long may it last,
If nothing much happens, I'm thankful.
A happier cabbage you never did see,
My vegetable spirits are soaring.
If you're after excitement, steer well clear of me.
I want to go on being boring.
I don't go to parties. Well, what are they for,
If you don't need to find a new lover?
You drink and you listen and drink a bit more
And you take the next day to recover.
Someone to stay home with was all my desire
And, now that I've found a safe mooring,
I've just one ambition in life: I aspire
To go on and on being boring.