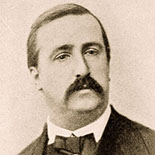 Alexander Porfiryevich Borodin (November 12, 1833 – February 27, 1887) was a Russian Romantic composer of Georgian origin, doctor and chemist.
Borodin was a member of the group of composers called The Five (or "The Mighty Handful"), who were dedicated to producing a specifically Russian kind of art music. He is best known for his symphonies, his two string quartets, In the Steppes of Central Asia and his opera Prince Igor. Music from Prince Igor and his string quartets was later adapted for the US musical Kismet.
He was a notable advocate of women's rights and a proponent of education in Russia and was a founder of the School of Medicine for Women in St. Petersburg.