Introduction
One does not need a fancy camera nor travel to exotic destinations to find beauty. The fifty photographs in this collection were made with two pocket cameras—an iPhone and a Sony Cyber-shot,and were taken within a four block area between my apartment and the gym I walk to daily, in New York City's East Village.
LOOK is about the ordinary we pass by— bicycles, fire hydrants, spills, abandoned scarfs, gloves, tire marks, and flattened soda cans. It find deep joy as I encounter everyday objects, shapes and colors, intermingling to define life's organic beauty.
When we are 'awake', light seems to pour out of every object; colors become vibrant and the core of life echoes with profound energy, transforming the mundane into the sublime.
Our awakened state, not the camera or location, is the only thing needed to transform the ordinary into startling and memorable moments.
Abraham Menashe
New York City, 2016
————————————————————————————————————————–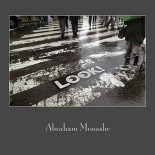 LOOK, by Abraham Menashe