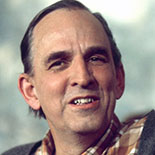 Ernst Ingmar Bergman (July 14, 1918 – July 30, 2007) was a Swedish director, writer and producer who worked in film, television, and theater.
He is recognized as one of the most accomplished and influential auteurs of all time, and is most famous for films such as The Seventh Seal (1957), Wild Strawberries (1957), Persona (1966), Cries and Whispers (1972), and Fanny and Alexander (1982).
He directed over sixty films and documentaries for cinematic release and for television, most of which he also wrote. He also directed over 170 plays. From 1953, he forged a powerful creative partnership with his full-time cinematographer Sven Nykvist. Among his company of actors were Harriet and Bibi Andersson, Liv Ullmann, Gunnar Björnstrand, Erland Josephson, Ingrid Thulin and Max von Sydow. Most of his films were set in his country, and numerous films from Through a Glass Darkly (1961) onward were filmed on the island of Fårö. His work often dealt with death, illness, faith, betrayal, bleakness and insanity.