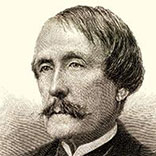 Henry Bergh (August 29, 1813 – March 12, 1888) American activist.
Bergh founded the American Society for the Prevention of Cruelty to Animals (ASPCA) in April, 1866, three days after the first effective legislation against animal cruelty in the United States was passed into law by the New York State Legislature. Bergh also prompted the formation, in 1874, of the Massachusetts Society for the Prevention of Cruelty to Children (MSPCC).
Bergh was born in New York City and studied at Columbia College, after which he worked in his father's shipyard. After the shipyard was sold, Bergh received a share of the inheritance and set forth on a lengthy journey throughout Western Europe with his young bride, Catherine Matilda Taylor.
On returning to the United States, Bergh resolved to work on behalf of animal welfare. Cruelties witnessed in Europe first suggested his mission. Alone, in the face of indifference, opposition, and ridicule, he began working as a speaker and lecturer, but most of all in the street and the courtroom, and before the legislature. His cause gained friends and rapidly increased in influence. The legislature passed the laws prepared by him, and on 10 April 1866 the ASPCA was legally organized, with Bergh as president.
The association moved steadily forward, and by August was in a flourishing condition financially, having received a valuable property from Bergh and his wife. In 1871 a Parisian, Louis Bonard, who lived with extreme simplicity in New York, died and left $150,000 to the Society, which permitted a move to larger quarters, better adapted to its work, a building at the corner of 4th Avenue and 22nd Street.
In 1874, Bergh was approached by a Methodist missionary named Etta Agnell Wheeler, who sought help rescuing a child named Mary Ellen Wilson from her cruel abuser, Mary Connolly. After Mary Ellen's story was heard, and she was subsequently rescued through Bergh's efforts, other complaints came in to Bergh. In response, Bergh himself, along with Elbridge T. Gerry and John D. Wright, formed the New York Society for the Prevention of Cruelty to Children (NYSPCC) in 1875. Over the coming years, other SPCC organizations were formed, such as the Massachusetts organization in 1888, the Massachusetts Society for the Prevention of Cruelty to Children (MSPCC).