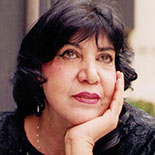 Simin Behbahani (June 20, 1927 – August 19, 2014) was Iranian poet, lyricist and activist.
She was an icon of the modern Persian poetry, Iranian intelligentsia and literati who affectionately refer to her as the lioness of Iran. She was nominated twice for the Nobel Prize in literature, and has "received many literary accolades around the world." Her surname also appears as Bihbahani.
ANCIENT EVE
Simin Behbahani
Love at Eighty?
Admit it: it's bizarre.
Ancient Eve is, once again
offering apples:
red lips and golden tresses.
Beautiful,
but not divine.
If my face has color
it's just makeup, a deceit.
But in my chest a heart
beats its wings wild with desire,
every seventy of its heartbeats
multiplied by two.
Love and shame and my body
warm with lust. I burn
with fever, a fever
past any physician's cure.
But at my side is bliss,
my lover
kind and faithful
and as long as he is here
I dwell in heaven.
I can't breathe a word;
my mouth's sealed
shut with your kisses,
their tongues of flame.
Oh, my thirsty lover!
Look at my happy fortune:
You, I, us tonight.
with a wine so delightful
where's the room for restraint?
Adam! Come see the spectacle.
Leave behind your denial and conceits
and watch as the Eve of eighty
rivals the twenty-year old she.
========
WHO'S KNOCKING?
Simin Behbahani
Who's knocking on this door?
It's my husband for tonight!
Oh sorrow! Leave my tender heart be!
Tis time for his contentment!
Oh my lips, my cunning lips, mask my miseries in mystery,
Perhaps he will pay me a few more coins.
Kiss him, love him, be pretty!