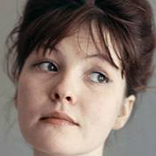 Izabella Akhatovna "Bella" Akhmadulina (April, 10, 1937 – November 29, 2010) was a Soviet and Russian poet, short story writer, and translator.
She was part of the Russian New Wave literary movement. She was cited by Joseph Brodsky as the best living poet in the Russian language.
NIGHT
Bella Akhmadulina
Now on three sides the darkness grows deeper
with the coming of dawn, and still my
hand has no courage to reach through the solid
air to the white paper on the table.
For reason can not honestly resist my
sense of limitation! Now I cannot
let my hand wrote any of those careless
phrases that once gave me joy.
In darkness there are always many meanings;
it is easy to mistake the euphoria of
midnight, and a burning head that comes from
slackness and caffeine—for sharp intelligence.
But evidently I have not damaged my
brain altogether with my insane vigils.
I understand excitement is no merit,
however hot; I do not think it talent.
It would be sinful to ignore that misery! Yet
the temptation is sweet. How small and innocent
a gesture: to destroy the anonymity of night, and
call all things within it by their right names.
Even as I try to keep my hands still
each object flirts with me, and shows its
own beauty, I am invited with
every movement now to render homage
to each thing, convinced of my love,
whose small voice growls and begs
to have its soul celebrated in song—
for which it needs my voice.
And I want to thank the candle, and to have
its lovely light known everywhere, would
offer tireless epithets as
caresses. And yet I fall silent.
Under this torture of numbness, what pain—
not to confess even with one word
the splendor of everything my love looks
upon from darkness with stern eyes.
Why should I be ashamed? Aren't free in
an empty house, in a flood of snow, to
write, however poorly? At least to name
the house, the snow, and the blue window.
A sheet of paper is defenseless: I pray
God to keep me modest. Here I sit
before a clear and most ingenuous candle that
lights my face now floating into sleep.
==============
THE HOSPITAL CHRISTMAS TREE
Bella Akhmadulina
They have set a Christmas tree up in a hospital ward.
It clearly feels out of place in a cloister of suffering.
The moon over Leningrad comes to my window ledge
but does not stay long—many windows, much waiting.
The moon moves on to a spry, independent old woman;
outside you can hear the susurrus sound of her trying
to hide from her neighbors and from her own shallow sleep
her breaking the norm—the blunder of illegal crying.
All the patients are worse; still, it is a Christmas Eve.
Tomorrow will some get news; some gifts; some, calls.
Life and death remain neighbors: the stretcher is always loaded;
through the long night the elevator squeaks as it falls.
Rejoice eternally, Virgin! You bore the Child at night.
There is no other reason for hope, but that matters so much,
is so huge, so eternally endless, that it
consoles the unknown, underground anchorite.
Even here in the ward where the tree makes some people cry
(did not want it; a nurse, in fact, ordered it brought)
the listening heart beats, and you hear people say,
"Hey, look! The Star of Bethlehem's in the sky!"
The only sure facts are the cattle's lament in the shred,
the Wise Men's haste, the inexperienced mother's elbow
marking The Child with a miraculous spot on His brow.
All the rest is absurd, an age-old but fugitive lie.
What matters more or brings more joy to sick flesh
wasted by work and by war than so simple a scene?
But they reproach you for drinking or some other fault
and stuff your brain with the bones of a system picked clean.
I watched the day begin breaking some time past nine;
it was a drop, a black light shining absurdly
onto the window. People dream that they heard
a little toy bell-ringer ringing the bell on the tree.
The day as it downed was week, not much of a sight.
The light was paler than pink, pastel, not harsh,
the way an amethyst shimmers on a young girl's neck.
All looked down, once they had seen the sad, humble cross.
And when they arose, reluctantly opening their eyes,
a trolley flew by through the snowstorm, gold trim inside it.
They crowded the window like children: "Hey, look at that car!
Like a perch that's gotten away, all speckled with fire!"
They sat down for breakfast; they argued, got tired, lay down.
The view from the window was such that Leningrad's secrets
and splendors brought tears to my eyes, filled me with love.
"Isn't there something you want?" "No, there's nothing."
I have long been accused of making frivolous things.
Frivolity maker, I look at those here around me:
O Mother of God, have mercy! And beg your Son, too.
On the day of His birth, pray and weep for us each.