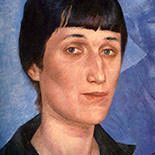 Anna Andreyevna Gorenko (June 23, 1889 – March 5, 1966), better known by the pen name Anna Akhmatova, was a Russian and Soviet modernist poet, one of the most acclaimed writers in the Russian canon.
Anna Andreyevna Akhmatova was born Anna Gorenko into an upper-class family in Odessa, the Ukraine, in 1889. Her interest in poetry began in her youth, but when her father found out about her aspirations, he told her not to shame the family name by becoming a "decadent poetess". He forced her to take a pen name, and she chose the last name of her maternal great-grandmother. She attended law school in Kiev and married Nikolai Gumilev, a poet and critic, in 1910. Shortly after the marriage, he traveled to Abyssinia, leaving her behind.
While Gumilev was away, Akhmatova wrote many of the poems that would be published in her popular first book, Evening.
EVERYTHING IS PLUNDERED
Anna Akhmatova
Everything is plundered, betrayed, sold,
Death's great black wing scrapes the air,
Misery gnaws to the bone.
Why then do we not despair?
By day, from the surrounding woods,
cherries blow summer into town;
at night the deep transparent skies
glitter with new galaxies.
And the miraculous comes so close
to the ruined, dirty houses —
something not known to anyone at all,
but wild in our breast for centuries.
=========
THE GUEST
Anna Akhmatova
All as before: against the dining-room windows
Beats the scattered windswept snow,
And I have not changed either,
But a man came to me.
I asked: "What do you want?"
He replied: "To be with you in Hell."
I laughed: "Oh, you'll foredoom
Us both to disaster."
But lifting his dry hand
He lightly touched the flowers:
"Tell me how men kiss you,
Tell me how you kiss men."
And his lusterless eyes
Did not move from my ring.
Not a single muscle quivered
On his radiantly evil face.
Oh, I know: his delight
Is the tense and passionate knowledge
That he needs nothing,
That I can refuse him nothing.
=========
I WRUNG MY HANDS UNDER MY DARK VEIL
Anna Akhmatova
I wrung my hands under my dark veil…
"Why are you pale, what makes you reckless?"
—Because I have made my loved one drunk
with an astringent sadness.
I'll never forget. He went out, reeling;
his mouth was twisted, desolate…
I ran downstairs, not touching the banisters,
and followed him as far as the gate.
And shouted, choking: "I meant it all
in fun. Don't leave me, or I'll die of pain."
He smiled at me—oh so calmly, terribly—
and said: "Why don't you get out of the rain?"
==========
LOT'S WIFE
Anna Akhmatova
And the just man trailed God's shining agent,
over a black mountain, in his giant track,
while a restless voice kept harrying his woman:
"It's not too late, you can still look back
at the red towers of your native Sodom,
the square where once you sang, the spinning-shed,
at the empty windows set in the tall house
where sons and daughters blessed your marriage-bed."
A single glance: a sudden dart of pain
stitching her eyes before she made a sound . . .
Her body flaked into transparent salt,
and her swift legs rooted to the ground.
Who will grieve for this woman? Does she not seem
too insignificant for our concern?
Yet in my heart I never will deny her,
who suffered death because she chose to turn.