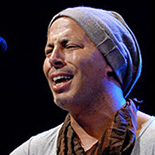 Dhafer Youssef (born November 19, 1967) is a composer, singer and oud player.
Youssef developed an interest in jazz at an early age and clandestinely listened to it during his education at a Qur'anic school. He later left Tunisia to start a jazz career and has lived in Europe since 1990, usually in Paris or Vienna. He also works in avant garde and world music where he has been nominated for awards.
Youssef has released four albums of his own and also did notable work with Sardinian trumpeter Paolo Fresu and the Norwegian guitarist Eivind Aarset. He indicates an affinity for the music of India and Nordic music.