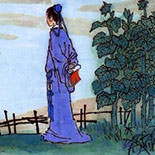 The songs of "Lady Midnight,'" or Zi Ye were attributed to a young woman who lived during the Jin dynasty (265-420). The sexual frankness of her work suggests that she was a singing girl (courtesan).
The History of the Tang states that her songs were sung with intense grief, and the music to which they were set was supposed to have been deeply plaintive.
There are 117 poems called Zi Ye poems in the great anthology of Music Burea poems. Whether there was a woman who wrote these or whether the Zi Ye poems represent a whole tradition is a question that remains unresolved. Nevertheless, the set of poems creates a powerful and unified effect, and they have been imitated by great poets such as Li Bai. Their effect, punning, erotic nature carries across the centuries with undiminished fire.
FOUR SEASONS SONG: SPRING
Zi Ye
Spring forest flowers are so charming.
Spring birds pour out grief.
Spring winds come with exuberant love—
they lift up my silk skirt.
~~~~~~~~~~~~~~~~~~~~~~~~~~
FOUR SEASONS SONG: AUTUMN
Zi Ye
She opens the window and sees the autumn moon,
snuffs the candle, slips from her silk skirt.
With a smile she parts my bed curtains,
lifting up her body—an orchid swells.
~~~~~~~~~~~~~~~~~~~~~~~~~~
AT THE TIME
Zi Ye
At the time when blossoms
Fall from the cherry-tree:
On a day when yellow birds
Hovered in the branches–
You said you must stop,
Because your horse was tired:
I said I must go,
Because my silkworms were hungry.
~~~~~~~~~~~~~~~~~~~~~~~~~~
I WILL CARRY MY COAT
Zi Ye
I will carry my coat and not put on my belt;
With unpainted eyebrows I will stand at the front window.
My tiresome petticoat keeps on flapping about;
If it opens a little, I shall blame the spring wind.
~~~~~~~~~~~~~~~~~~~~~~~~~~
I HEARD MY LOVE
Zi Ye
I heard my love was going to Yang-chou
And went with him as far as Ch'u-shan.
For a moment when you held me fast in your outstretched arms
I thought the river stood still and did not flow.
==========
THREE SONGS
Zi Ye
1
At sundown I step out of my front door
and see passing by­­—you,
your face so dazzling, hair mesmerizing,
perfume filling all the road.
2.
Last night I didn't comb my hair.
Like silk it tangles down my shoulders
and curls up on my knees.
What part of me is not lovely?
3.
The night is forever. I can't sleep.
The clear moon is so bright, so bright.
I almost think I hear a voice call me,
and to the empty sky, I say Yes?