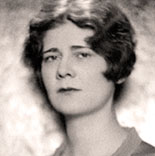 Elinor Morton Wylie (September 7, 1885 – December 16, 1928) was an American poet and novelist popular in the 1920s and 1930s.

ATAVISM
Elinor Wylie
I was always afraid of Somes's Pond:
Not the little pond, by which the willow stands,
Where laughing boys catch alewives in their hands
In brown, bright shallows; but the one beyond.
There, where the frost makes all the birches burn
Yellow as cow-lilies, and the pale sky shines
Like a polished shell between black spruce and pines,
Some strange thing tracks us, turning where we turn.
You'll say I dreamed it, being the true daughter
Of those who in old times endured this dread.
Look! Where the lily-stems are showing red
A silent paddle moves below the water,
A sliding shape has stirred them like a breath;
Tall plumes surmount a painted mask of death.
=======
COLD-BLOODED CREATURES
Elinor Wylie
Man, the egregious egoist
(In mystery the twig is bent)
Imagines, by some mental twist,
That he alone is sentient
Of the intolerable load
That on all living creatures lies,
Nor stoops to pity in the toad
The speechless sorrow of his eyes.
He asks no questions of the snake,
Nor plumbs the phosphorescent gloom
Where lidless fishes, broad awake,
Swim staring at a nightmare doom.
=======
ESCAPE
Elinor Wylie
When foxes eat the last gold grape,
And the last white antelope is killed,
I shall stop fighting and escape
Into a little house I'll build.
But first I'll shrink to fairy size,
With a whisper no one understands,
Making blind moons of all your eyes,
And muddy roads of all your hands.
And you may grope for me in vain
In hollows under the mangrove root,
Or where, in apple-scented rain,
The silver wasp-nests hang like fruit.
=========
PRETTY WORDS
Elinor Wylie
Poets make pets of pretty, docile words:
I love smooth words, like gold-enamelled fish
Which circle slowly with a silken swish,
And tender ones, like downy-feathred birds:
Words shy and dappled, deep-eyed deer in herds,
Come to my hand, and playful if I wish,
Or purring softly at a silver dish,
Blue Persian kittens fed on cream and curds.
I love bright words, words up and singing early;
Words that are luminous in the dark, and sing;
Warm lazy words, white cattle under trees;
I love words opalescent, cool, and pearly,
Like midsummer moths, and honied words like bees,
Gilded and sticky, with a little sting.