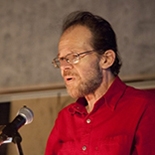 Franz Wright (March 18, 1953 -May 14, 2015) is an American poet.
He and his father James Wright are the only parent/child pair to have won the Pulitzer Prize in the same category. Wright has received the PEN/Voelcker Award for Poetry, as well as grants and fellowships from the Guggenheim Foundation, the Whiting Foundation, and the National Endowment for the Arts. He lives in Waltham, Massachusetts.
ICON FROM CHILDHOOD
Franz Wright
Bee light
The bees of the icon
The little prayer
to Mary, maybe
I won't remember
anything
only
the words. And
that these words
are only
things, but
that all things are shining
words, busy
silently
saying themselves—
they don't need
me.