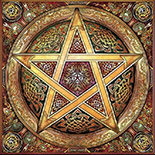 Sarah Williams, English poet, (1837–1868).
ONE PAGAN'S PLEA
Sarah Williams
Goddess-chill my soul,
be still and bring your breath
of wondrous icy-dying dew.
Blanket my aching bones
of time-hardened heartbreaks
in Persephone's amber embrace.
Leave me not to wither and fail
with this tormented burning heap of souls,
scattered in night's wind to a demon's cry of anguish.
Throw their books upon the fire,
for I care not for their empty, hollow ringings
in my tempest-tossed mind,
slashing with tendrils lashing…
silencing my spirit-voice.
I raise that voice in righteous anger,
crashing waves against their bitter wall
of self-sufficient hypocrisy,
burning bridges with flames of holy indignation.
Return, oh fire, to transform…
water, to shape…
air, to move…
and earth, to heal…
and reclaim thy rightful throne of all divine,
burning bright in your glory-Goddess-light,
for all to be in sacred silence of the night…
In awe…of she who is ALL.
========
THOUGH MY SOUL MAY SET IN DARKNESS
Sarah Williams
Though my soul may set in darkness,

it will rise in perfect light;

I have loved the stars too fondly,

to be fearful of the night