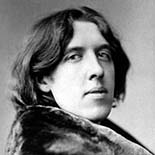 Oscar Fingal O'Flahertie Wills Wilde (October 16, 1854 – November 30, 1900) was an Irish poet and playwright. After writing in different forms throughout the 1880s, he became one of the most popular playwrights in London in the early 1890s. He is best remembered for his epigrams and plays, his novel The Picture of Dorian Gray, and the circumstances of his criminal conviction for gross indecency for consensual homosexual acts in "one of the first celebrity trials", imprisonment, and early death from meningitis at age 46.
SONNET
Oscar Wilde
Christ, dost Thou live indeed? or are Thy bones
Still straitened in their rock-hewn sepulchre?
And was Thy Rising only dreamed by her
Whose love of Thee for all her sin atones?
For here the air is horrid with men's groans,
The priests who call upon Thy name are slain,
Dost Thou not hear the bitter wail of pain
From those whose children lie upon the stones?
Come down, O Son of God! incestuous gloom
Curtains the land, and through the starless night
Over Thy Cross a Crescent moon I see!
If Thou in very truth didst burst the tomb
Come down, O Son of Man! and show Thy might
Lest Mahomet be crowned instead of Thee!