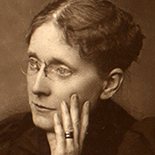 Ella Wheeler Wilcox (November 5, 1850 – October 30, 1919) was an American author and poet.
Her best-known work was Poems of Passion. Her most enduring work was "Solitude", which contains the lines: "Laugh, and the world laughs with you; Weep, and you weep alone". Her autobiography, The Worlds and I, was published in 1918, a year before her death.
Ella Wheeler started writing poetry at a very early age, and was well known as a poet in her own state by the time she graduated from high school. When about 28 years of age, she married Robert Wilcox. They had one child, a son, who died shortly after birth. Not long after their marriage, they both became interested in theosophy, new thought, and spiritualism.
Early in their married life, they promised each other that whoever went first through death would return and communicate with the other. Robert Wilcox died in 1916, after over thirty years of marriage. She was overcome with grief, which became ever more intense as week after week went without any message from him. It was at this time that she went to California to see the Rosicrucian astrologer, Max Heindel, still seeking help in her sorrow, still unable to understand why she had no word from her Robert. This is how she tells of this meeting:
"In talking with Max Heindel, the leader of the Rosicrucian Philosophy in California, he made very clear to me the effect of intense grief. Mr. Heindel assured me that I would come in touch with the spirit of my husband when I learned to control my sorrow. I replied that it seemed strange to me that an omnipotent God could not send a flash of his light into a suffering soul to bring its conviction when most needed. Did you ever stand beside a clear pool of water, asked Mr. Heindel, and see the trees and skies repeated therein? And did you ever cast a stone into that pool and see it clouded and turmoiled, so it gave no reflection? Yet the skies and trees were waiting above to be reflected when the waters grew calm. So God and your husband's spirit wait to show themselves to you when the turbulence of sorrow is quieted".
Several months later, she composed a little mantra or affirmative prayer which she said over and over "I am the living witness: The dead live: And they speak through us and to us: And I am the voice that gives this glorious truth to the suffering world: I am ready, God: I am ready, Christ: I am ready, Robert.".
Wilcox made efforts to teach occult things to the world. Her works, filled with positivism, were popular in the New Thought Movement and by 1915 her booklet, What I Know About New Thought had a distribution of 50,000 copies, according to its publisher, Elizabeth Towne.
She is frequently cited in anthologies of bad poetry, such as The Stuffed Owl: An Anthology of Bad Verse and Very Bad Poetry. Sinclair Lewis indicates Babbitt's lack of literary sophistication by having him refer to a piece of verse as "one of the classic poems, like 'If' by Kipling, or Ella Wheeler Wilcox's 'The Man Worth While.'"
A GOLDEN DAY
Ella Wilcox
The subtle beauty of this day
Hangs o'er me like a fairy spell,
And care and grief have flown away,
And every breeze sings, "all is well."
I ask, "Holds earth or sin, or woe?"
My heart replies, "I do not know."
Nay! all we know, or feel, my heart,
Today is joy undimmed, complete;
In tears or pain we have no part;
The act of breathing is so sweet,
We care no higher joy to name.
What reck we now of wealth or fame?
The past–what matters it to me?
The pain it gave has passed away.
The future–that I cannot see!
I care for nothing save today–
This is a respite from all care,
And trouble flies–I know not where.
Go on, oh noisy, restless life!
Pass by, oh, feet that seek for heights!
I have no part in aught of strife;
I do not want your vain delights.
The day wraps round me like a spell
And every breeze sings, "All is well."
========
SOLITUDE
Ella Wheeler Wilcox
Laugh, and the world laughs with you;
Weep, and you weep alone.
For the sad old earth must borrow it's mirth,
But has trouble enough of its own.
Sing, and the hills will answer;
Sigh, it is lost on the air.
The echoes bound to a joyful sound,
But shrink from voicing care.
Rejoice, and men will seek you;
Grieve, and they turn and go.
They want full measure of all your pleasure,
But they do not need your woe.
Be glad, and your friends are many;
Be sad, and you lose them all.
There are none to decline your nectared wine,
But alone you must drink life's gall.
Feast, and your halls are crowded;
Fast, and the world goes by.
Succeed and give, and it helps you live,
But no man can help you die.
There is room in the halls of pleasure
For a long and lordly train,
But one by one we must all file on
Through the narrow aisles of pain.