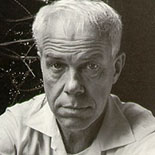 Minor Martin White (July 9, 1908 – June 24, 1976) was an American photographer born in Minneapolis, Minnesota.
White earned a degree in botany with a minor in English from the University of Minnesota in 1933. His first creative efforts were in poetry, as he took five years thereafter to complete a sequence of 100 sonnets while working as a waiter and bartender at the University Club.
White photographed of barns, doorways, water, the sky, or simple paint peeling on a wall: things usually considered mundane, but often made special by the quality of the light in which they were photographed.
White co-founded the influential magazine Aperture in 1952 with fellow photographers Ansel Adams, Dorothea Lange, and Barbara Morgan; writer/curator Nancy Newhall; and Newhall's husband, historian Beaumont Newhall. White edited the magazine until 1975.
n 1953 he moved to Rochester, New York and for four years worked as a curator at George Eastman House, and also edited their magazine Image. He taught at the Rochester Institute of Technology from 1956 to 1964.