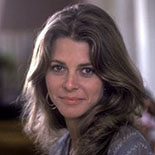 Lindsay Jean Wagner (born June 22, 1949) is an American actress.
She is best known for her portrayal of Jaime Sommers in the 1970s television series The Bionic Woman (for which she won an Emmy Award), though she has maintained a lengthy career in a variety of other film and television productions since.
In 1987, Wagner wrote a series of books with Robert M. Klein about using acupressure to achieve results akin to a surgical facelift. In 1994, she wrote one of the first "celebrity" vegetarian (and mainly vegan) cookbooks, High Road to Health. Wagner appeared in commercials as a spokesperson for Southern California's regional Ford Motor Company dealerships from 1987 through 2000. She was also a spokesperson in infomercials for Select Comfort's "Sleep Number" bed from 2003 to 2009.
In recent years, Wagner has given seminars and workshops for her self-help therapy, "Quiet the Mind and Open the Heart," which promotes spirituality and meditation.