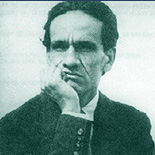 César Abraham Vallejo Mendoza (March 16, 1892 – April 15, 1938) was a Peruvian poet, writer, playwright, and journalist.
Although he published only three books of poetry during his lifetime, he is considered one of the great poetic innovators of the 20th century in any language. He was always a step ahead of literary currents, and each of his books was distinct from the others, and, in its own sense, revolutionary. Thomas Merton called him "the greatest universal poet since Dante". The late British poet, critic and biographer Martin Seymour-Smith, a leading authority on world literature, called Vallejo "…the greatest twentieth-century poet in any language." He was a member of the intellectual community called North Group formed in Trujillo city.
THE ANGER THAT BREAKS THE MAN INTO CHILDREN
Cesar Vallejo
The anger that breaks man into children, 
that breaks a child into equal birds, 
and the bird, afterward, into little eggs; the anger of the poor
 has one oil against two vinegars.
The anger that breaks the tree down into leaves,
and the leaf down into different-sized buds,
and the buds into infinitely fine grooves;
the anger of the poor
owns two rivers against a number of seas.
The anger that breaks the good down into doubts,
and doubt down into three matching arcs,
and the arc, then, into unimaginable tombs;
the anger of the poor
owns one piece of steel against two daggers.
The anger that breaks the soul down into bodies,
the body down into different organs,
and the organ into reverberating octaves of thought;
the anger of the poor
owns one deep fire against two craters.
=========
THE BLACK HERALDS
Cesar Vallejo
There are such hard blows in life… I don't know.
Blows as if from God's hatred. As if before them,
the undertow of all we've suffered
wells up in the soul. I don't know.
They're rare, but they exist. They open dark gullies
in the fiercest face and in the strongest back.
They might be the shaggy mounts of barbarous Atillas,
or the black heralds that death sends.
They are the long falls of the Christs of the soul,
of some cherished belief cursed by fate.
These gory blows are the crackling of bread
that burns us in the oven door.
And man: poor, poor man! He rolls his eyes,
the way we do when a slap on the shoulder summons us.
He rolls crazed eyes, and all he's lived through
wells up like a guilty puddle in his gaze.
There are such hard blows in life. I don't know.