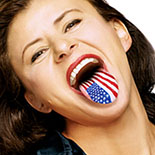 Tracey Ullman (born Trace Ullman; December 30, 1959) is an English television, stage, and film actress, as well as a comedian, singer, dancer, director, screenwriter, author, and businesswoman of dual British and American citizenship.
Her early appearances were on British TV sketch comedy shows A Kick Up the Eighties (with Rik Mayall and Miriam Margolyes) and Three of a Kind (with Lenny Henry and David Copperfield). After a brief but high-profile singing career, she appeared as Candice Valentine in Girls on Top with Dawn French and Jennifer Saunders.
She emigrated from the United Kingdom to the United States where she starred in her own network television comedy series, The Tracey Ullman Show, from 1987 until 1990. She later produced programmes for HBO, including Tracey Takes On… (1996–99), for which she garnered numerous awards. Ullman's sketch comedy series, Tracey Ullman's State of the Union, ran from 2008 to 2010 on Showtime. She has also appeared in several feature films. She is set to star in the upcoming BBC sketch comedy Tracey Ullman's Show in January 2016, her first first project for the network in over thirty years.
Ullman is currently the richest female British comedian; the third richest British comedian overall. She is also the second richest British actress (surpassed by Isla Fisher's marriage to comedian Sacha Baron Cohen as of 2015).