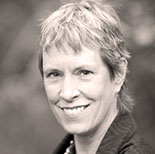 Chase Twichell (born August 20, 1950) is an American poet, professor, and publisher, the founder in 1999, of Ausable Press.
Her most recent poetry collection is Horses Where the Answers Should Have Been, which earned her Claremont Graduate University's prestigious $100,000 Kingsley Tufts Poetry Award. (Copper Canyon Press, 2010). She is the winner of several awards in writing from the New Jersey State Council on the Arts, the American Academy of Arts and Letters and The Artists Foundation. Additionally, she has received fellowships from both the Guggenheim Foundation and the National Endowment for the Arts. Her poems have appeared in literary journals and magazines including The New Yorker, Field, Ploughshares, The Georgia Review, The Paris Review, Poetry, The Nation, and The Yale Review.
Many of Twichell's poems are heavily influenced by her years as a Zen Buddhist student of John Daido Loori at Zen Mountain Monastery, and her poetry in the book The Snow Watcher shows it. She attended the Foote School in New Haven. In the Fall 2003 Tricycle magazine interview with Chase, she says, "Zazen and poetry are both studies of the mind. I find the internal pressure exerted by emotion and by a koan to be similar in surprising and unpredictable ways. Zen is a wonderful sieve through which to pour a poem. It strains out whatever's inessential.
THE GHOST OF TOM
Chase Twichell
At family gatherings,
a Family Friend liked gathering
the girls to make us sing rounds.
We always wanted the spooky one,
Have you seen the ghost of Tom?
Long white bones with the rest all gone …
We'd substitute words, like long white boners
with the rest all gone,
which he pretended not to hear
because who knows, any one of us
might blow his cover at any minute,
unpredictable little liars that we were,
the girl cousins, talking preteen trash
about him, the things he likes to do,
for example gather the girl cousins
and make them sing against their wills.
His personal favorite was
Tender Shepherd, tender Shepherd,
Let me help you count your sheep.
One in the meadow, two in the garden,
Three in the nursery, fast asleep.
One Christmas there were only
three of us, so we sang
the round with one part missing.
I still listen to the fourth part —
that's the real ghost.
=======
HUNGER FOR SOMETHING
Chase Twichell
Sometimes I long to be the woodpile,
cut-apart trees soon to be smoke,
or even the smoke itself,
sinewy ghost of ash and air, going
wherever I want to, at least for a while.
Neither inside nor out,
neither lost nor home, no longer
a shape or a name, I'd pass through
all the broken windows of the world.
It's not a wish for consciousness to end.
It's not the appetite an army has
for its own emptying heart,
but a hunger to stand now and then
alone on the death-grounds,
where the dogs of the self are feeding.