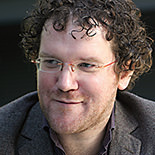 Padraig O Tuama, Poet, is an Irish theologian and poet. He is the author of the poetry collections Sorry for Your Troubles (Canterbury Press, 2013) and Readings from the Books of Exile (Canterbury Press, 2012),

THE NORTHERN IRELAND
Padraig O Tuama
It is both a dignity and
a difficulty
to live between these
names,
perceiving politics
in the syntax of
the state.
And at the end of the day,
the reality is
that whether we
change
or whether we stay
the same
these questions will
remain.
Who are we
to be
with one
another?
and
How are we
to be
with one
another?
and
What to do
with all those memories
of all of those funerals?
and
What about those present
whose past was blasted
far beyond their
future?

I wake.
You wake.
She wakes.
He wakes.
They wake.
We Wake
and take
this troubled beauty forward.