Jerry and Kathy Weiner have been sponsoring the events of Tolerance Week in Sioux City, Iowa since 2005. Tolerance Week has involved film showings about tolerance with special guests each year and is free to the public.
Tolerance Week has featured award winning films including The Courageous Heart of Irena Sendler, The Reckoning: The Dutch Resistance, One Out of Ten, Inside Hanna's Suitcase, Nicky's Family and Angel of Ahlem.
Photo © Abraham Menashe
—————————————————————————–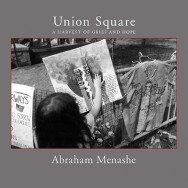 Featured photo is from Union Square; A Harvest of Grief and Hope, by Abraham Menashe, available from iTunes.