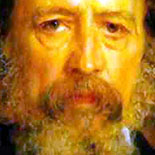 Alfred Tennyson, 1st Baron Tennyson, (August 6, 1809 – October 6, 1892) was Poet Laureate of Great Britain and Ireland during much of Queen Victoria's reign and remains one of the most popular British poets.
Tennyson excelled at penning short lyrics, such as "Break, Break, Break", "The Charge of the Light Brigade", "Tears, Idle Tears" and "Crossing the Bar". Much of his verse was based on classical mythological themes, such as Ulysses, although In Memoriam A.H.H. was written to commemorate his best friend Arthur Hallam, a fellow poet and fellow student at Trinity College, Cambridge, who was engaged to Tennyson's sister, but died from a brain haemorrhage before they could marry.
Tennyson also wrote some notable blank verse including Idylls of the King, "Ulysses", and "Tithonus". During his career, Tennyson attempted drama, but his plays enjoyed little success. A number of phrases from Tennyson's work have become commonplaces of the English language, including "Nature, red in tooth and claw", "'Tis better to have loved and lost / Than never to have loved at all", "Theirs not to reason why, / Theirs but to do and die", "My strength is as the strength of ten, / Because my heart is pure", "To strive, to seek, to find, and not to yield", "Knowledge comes, but Wisdom lingers", and "The old order changeth, yielding place to new". He is the ninth most frequently quoted writer in The Oxford Dictionary of Quotations.
RING OUT, WILD BELLS
Alfred Tennyson
Ring out, wild bells, to the wild sky,
The flying cloud, the frosty light:
The year is dying in the night;
Ring out, wild bells, and let him die.
Ring out the old, ring in the new,
Ring, happy bells, across the snow:
The year is going, let him go;
Ring out the false, ring in the true.
Ring out the grief that saps the mind
For those that here we see no more;
Ring out the feud of rich and poor,
Ring in redress to all mankind.
Ring out a slowly dying cause,
And ancient forms of party strife;
Ring in the nobler modes of life,
With sweeter manners, purer laws.
Ring out the want, the care, the sin,
The faithless coldness of the times;
Ring out, ring out my mournful rhymes
But ring the fuller minstrel in.
Ring out false pride in place and blood,
The civic slander and the spite;
Ring in the love of truth and right,
Ring in the common love of good.
Ring out old shapes of foul disease;
Ring out the narrowing lust of gold;
Ring out the thousand wars of old,
Ring in the thousand years of peace.
Ring in the valiant man and free,
The larger heart, the kindlier hand;
Ring out the darkness of the land,
Ring in the Christ that is to be.