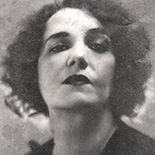 Judith dos Reis Ramos Teixeira or Judith Teixeira (January 25, 1880 – May 17, 1959 ) was a Portuguese writer.
He published three books of poetry and a book of short stories , among other writings. In 1925 he launched the magazine Europa , from which came three issues (April, May and June). Copies of his book Decadence (1923) were apprehended, along with the books of António Botto (Songs) and Raul Leal (Divinized Sodom), And sent to burn by the Civil Government of Lisbon following a campaign, led by the conservative League of Student Action of Lisbon , against "the decadent artists, the poets of Sodom, publishers, authors and sellers of immoral books."
MY SCARLET QUILT
Judith Teixeira
Perfumes fell me,
fling me like a lush
on the crushed satins
of my scarlet quilt!
In the throes of ecstasy
in the grip of my greed
I rip the slovenly silk
that enfolds me!
I seize the counterpane
with incontinent hands
I feel the veins swelling
in my wanton flesh!
My body is wringing
with desire, ravishing
the satin with love-bites,
disheveled, covetous.
========
THE STATUE
Judith Teixeira
Your slender white body
has arrested my senses…
I dream of you warming, in the deep
of night, the cold bulging marble
of your luminous chest…
And how often in the darkness,
burning with mad fever,
eyes violet like lilies,
I come peek at your gestures I've dreamed…
—I hear the sounds of a convulsion
confessing all my fantasies!
O sensual Venus!
Mortal sin
of my meditation!
Between the sharp tips of your breasts
you hold, in torment,
the singular reason of my unrest!