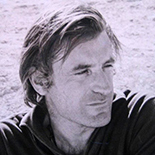 Edward James "Ted" Hughes, (August 17, 1930 – October 28, 1998) was an English poet and children's writer.
Critics routinely rank him as one of the best poets of his generation. Hughes was British Poet Laureate from 1984 until his death.
Hughes was married to American poet Sylvia Plath, from 1956 until her suicide in 1963 at the age of 30.His part in the relationship became controversial to some feminists and (particularly) American admirers of Plath. His last poetic work, Birthday Letters (1998), explored their complex relationship. These poems make reference to Plath's suicide, but none of them addresses directly the circumstances of her death. A poem discovered in October 2010, Last letter, describes what happened during the three days leading up to Plath's suicide.
BRIDE AND GROOM LIE HIDDEN FOR THREE DAYS
Ted Hughes
She gives him his eyes, she found them
Among rubble, among some beetles
He gives her her skin
He just seemed to pull it down out of the air and lay it over her
She weeps with fearfulness and astonishment
She has found his hands for him, and fitted them freshly at the wrists
They are amazed at themselves, they go feeling all over her
He has assembled her spine, he cleaned each piece carefully
And sets them in perfect order
A superhuman puzzle but he is inspired
She leans back twisting this way and that, using it and laughing, incredulous
Now she has brought his feet, she is connecting them
So that his whole body lights up
And he has fashioned her new hips
With all fittings complete and with newly wound coils, all shiningly oiled
He is polishing every part, he himself can hardly believe it
They keep taking each other to the sun, they find they can easily
To test each new thing at each new step
And now she smoothes over him the plates of his skull
So that the joints are invisible
And now he connects her throat her breasts and the pit of her stomach
With a single wire
She gives him his teeth, tying their roots to the center pin of his body
He sets the little circlets of her fingertips
She stitches his body here and there with steely purple silk
He oils the delicate cogs of her mouth
She inlays with deep-cut scrolls the nape of his neck
He sinks into place the inside of her thighs
So, gasping with joy, with cries of wonderment
Like two gods of mud
Sprawling in the dirt, but with infinite care
They bring each other to perfection.
=======
SEPTEMBER
Ted Hughes
We sit late, watching the dark slowly unfold:
No clock counts this.
When kisses are repeated and the arms hold
There is no telling where time is.
It is midsummer: the leaves hang big and still:
Behind the eye a star,
Under the silk of the wrist a sea, tell
Time is nowhere.
We stand; leaves have not timed the summer.
No clock now needs
Tell we have only what we remember:
Minutes uproaring with our heads
Like and unfortunate King's and Queen's
When the senseless mob rules;
And quietly the trees casting their crowns
Into the pools.