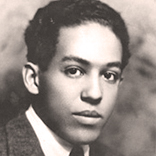 James Mercer Langston Hughes (February 1, 1902 – May 22, 1967) was an American poet, social activist, novelist, playwright, and columnist.
Hughes was one of the earliest innovators of the then-new literary art form jazz poetry. Hughes is best known for his work during the Harlem Renaissance.


I, TOO
Langston Hughes
I, too sing America.
I am the darker brother.
They send me to eat in the kitchen
When company comes,
But I laugh,
And eat well,
And grow strong.
Tomorrow,
I'll be at the table
When company comes.
Nobody'll dare
Say to me,
"Eat in the kitchen,"
Then.
Besides,
They'll see how beautiful I am
And be ashamed—
I, too, am America.
========
PRESENT
Langston Hughes
De lady I work for
Told her husband
She wanted a
Robe o' love—
But de damn fool
Give her
A fur coat!
Yes,
He did!