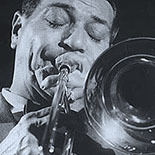 Weldon Leo "Jack" Teagarden (August 20, 1905 – January 15, 1964), known as "Big T" and "The Swingin' Gate", was an American jazz trombonist, bandleader, composer, and vocalist, regarded as the "Father of Jazz Trombone".
Teagarden's trombone style was largely self-taught, and he developed many unusual alternative positions and novel special effects on the instrument. He is usually considered the most innovative jazz trombone stylist of the pre-bebop era — Pee Wee Russell once called him "the best trombone player in the world"—and did much to expand the role of the instrument beyond the old tailgate style role of the early New Orleans brass bands. Chief among his contributions to the language of jazz trombonists was his ability to interject the blues or merely a "blue feeling" into virtually any piece of music.
In 1969, Jack Teagarden was inducted into the Down Beat Jazz Hall of Fame. He was inducted into the Big Band and Jazz Hall of Fame in 1985. Other honors have included induction in the ASCAP Jazz Wall of Fame in 2005 and inclusion in the Houston Institute for Culture's Texas Music Hall of Fame.