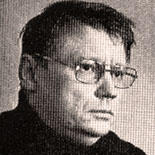 Boris Alexandrovich Tchaikovsky (September 10, 1925 – February 7, 1996) was a Soviet composer.
He is considered as part of the second generation of Russian composers, following in the steps of Pyotr Tchaikovsky (to whom he was not related) and especially Mussorgsky.
Of his larger-scale works almost all have been recorded. Boris Tchaikovsky generally wrote in a tonal style, although he made brief forays into serialism.