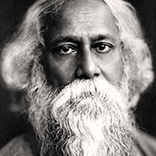 Rabindranath Thakur, anglicised to Tagore (May 7, 1861 – August 7, 1941), was a Bengali polymath who reshaped his region's literature and music.
Author of Gitanjali he became the first non-European to win the Nobel Prize in Literature in 1913. In translation his poetry was viewed as spiritual and mercurial; his seemingly mesmeric personality, flowing hair, and otherworldly dress earned him a prophet-like reputation in the West. His "elegant prose and magical poetry" remain largely unknown outside Bengal. Tagore introduced new prose and verse forms and the use of colloquial language into Bengali literature, thereby freeing it from traditional models based on classical Sanskrit. He was highly influential in introducing the best of Indian culture to the West and vice versa, and he is generally regarded as the outstanding creative artist of modern India.
A Pirali Brahmin from Calcutta, Tagore wrote poetry as an eight-year-old. At age sixteen, he released his first substantial poems under the pseudonym Bhānusiṃha ("Sun Lion"), which were seized upon by literary authorities as long-lost classics. He graduated to his first short stories and dramas—and the aegis of his birth name—by 1877. As a humanist, universalist internationalist, and strident anti-nationalist he denounced the Raj and advocated independence from Britain. As an exponent of the Bengal Renaissance, he advanced a vast canon that comprised paintings, sketches and doodles, hundreds of texts, and some two thousand songs; his legacy endures also in the institution he founded, Visva-Bharati University.
Tagore modernised Bengali art by spurning rigid classical forms and resisting linguistic strictures. His novels, stories, songs, dance-dramas, and essays spoke to topics political and personal. Gitanjali (Song Offerings), Gora (Fair-Faced), and Ghare-Baire (The Home and the World) are his best-known works, and his verse, short stories, and novels were acclaimed—or panned—for their lyricism, colloquialism, naturalism, and unnatural contemplation. His compositions were chosen by two nations as national anthems: India's Jana Gana Mana and Bangladesh's Amar Shonar Bangla.
CROSSING 16
Rabindranath Tagore
You came to my door in the dawn and sang; it angered me to be awakened from sleep, and you went away unheeded.
You came in the noon and asked for water; it vexed me in my work, and you were sent away with reproaches.
You came in the evening with your flaming torches.
You seemed to me like a terror and I shut my door.
Now in the midnight I sit alone in my lampless room and call you back whom I turned away in insult.
=======
THE SONG THAT I CAME TO SING
Rabindranath Tagore
The song that I came to sing remains unsung to this day.
I have spent my days in stringing and in unstringing my instrument.
The time has not come true, the words have not been rightly set;
only there is the agony of wishing in my heart.
The blossom has not opened; only the wind is sighing by.
I have not seen his face, nor have I listened to his voice;
only I have heard his gentle footsteps from the road before my house.
The livelong day has passed in spreading his seat on the floor;
but the lamp has not been lit and I cannot ask him into my house.
I live in the hope of meeting with him; but this meeting is not yet.